ACTIONAID ZAMBIA SIGNS GRANT AGREEMENT WITH NINE CSOs & CBOs ON GOVERNANCE, DEMOCRACY & HUMAN RIGHTS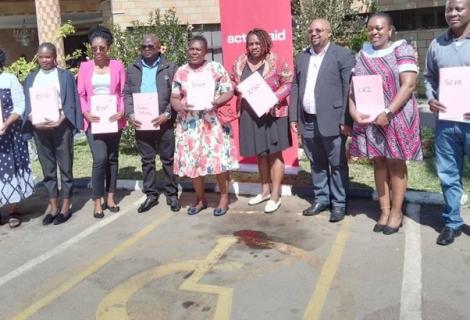 ACTIONAID SIGNS GRANT AGREEMENT WITH CSOs & CBOs ON GOVERNANCE, DEMOCRACY AND HUMAN RIGHTS
ACTIONAID has signed grant agreements with nine Civil Society Organisations (CSOs) and Community Based Organisations (CSOs) in Zambia to strengthen democracy and human rights.
The grant agreement called "Strengthening Civil Society in promotion good governance and raising citizens' awareness on democracy and human rights in Zambia," is for implementation in the next six months in different districts of Zambia.
The project interventions are being implemented in four focus areas namely: Public Finance, Civic participation and state accountability, Natural resource management, Health
ActionAid Interim Country Director Andrew Chikowore urged recipient partners to be champions on women and children protection against Sexual Harassment Exploitation and Abuse (SHEA).
Dr Chikowore told partner organisations during the Swedish International Development Agency (SIDA) supported grants signing ceremony that protection of women and children should be the focus as they implemented respective projects.
"Protection of children and women needs no compromise. ActionAid respects this value and we want you to guard it" he said.
He said ActionAid's commitment to SHEA was not negotiable.
Actionaid also reminded partner organisations against misappropriation of grant funds and called for transparency and accountability.
The recipient organizations are: Copper Rose Zambia, Caritas Solwezi, Zambia Council for Social Development, Mbala District Women Association, Zambia Youth Platform, Shem Mother Support Group, Zambia Center for Inter-Party Dialogue, Jesuit Center for Theological Reflection, Save Environment and People Agency
The recipient organisations thanks ActionAid for the support and pledged accountability in their implementation. The grants are supported by the Swedish government.