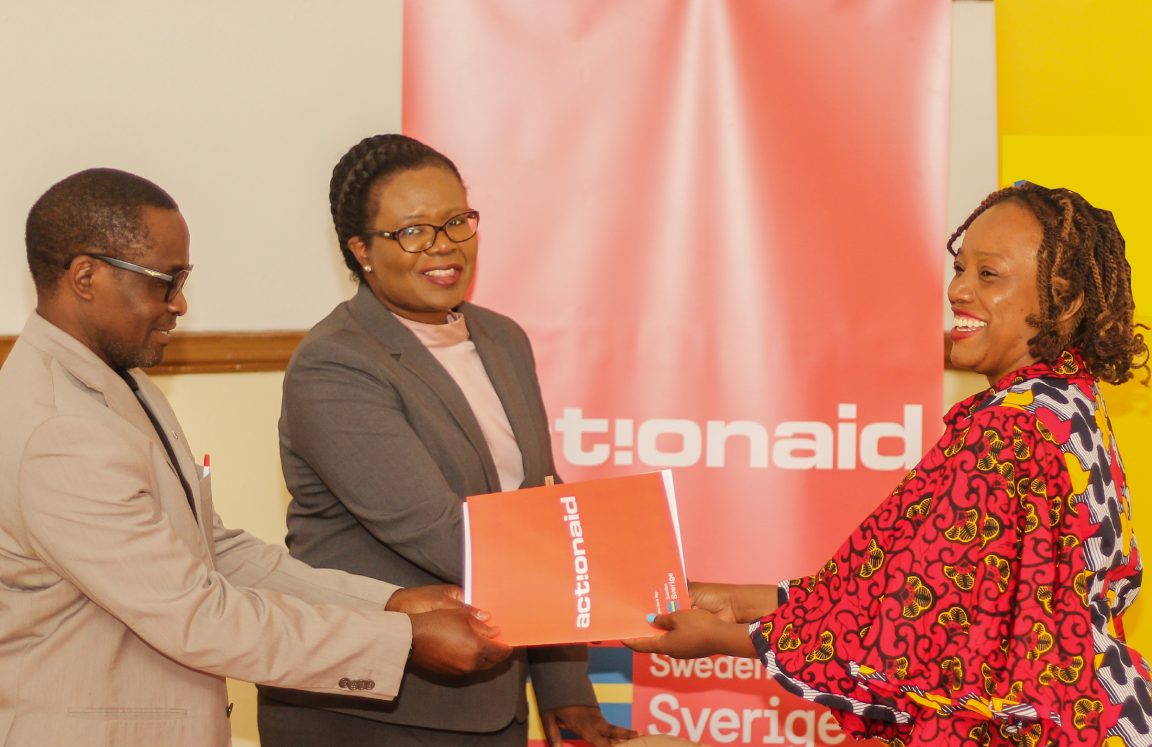 ActionAid Zambia Grants
Grant Management
ActionAid Zambia Approach
Using the Human Rights Based Approach (HRBA), ActionAid Zambia supports, builds knowledge and skills of collective agencies of Civil Society Organizations (CSOs) that spearhead evidence-based lobbying and advocacy to shift power in the favour the poor and marginalised. This support is in the form of institutional capacity building, sub-granting, coordination and knowledge sharing.
Grant Areas of Work and Objective of the Grant 
To strengthen CSOs capacity to enhance citizens' civic participation and state accountability for improved governance and public service delivery in Zambia.
To strengthen CSOs and citizen's role in promoting transparency and accountability in public finance management and institutional governance systems. 
To strengthen the capacity of CSOs and citizens in holding government accountable on the enforcement of policies and regulations for sustainable Natural Resource (NR) management and climate justice.  
To strengthen the capacity of CSOs and citizens to demand for improved policies and programmes that promote inclusiveness and accessibility to health services.
To increase CSOs institutional capacity, compliance and accountability   among partner Civil Society Organization (CSOs) in Zambia.
Types of Partner Organizations
ActionAid Zambia supports Civil Society Organization partners that are at National, Provincial/ District and Community levels. The grant also supports special initiatives and innovations such as loose networks, coalitions, alliances, movements and other activists intended to contribute to the goal of the project.
ActionAid Zambia Coverage of Grants
Eastern, Southern, Muchinga, Luapula, North-Western, Western, Lusaka and Copperbelt province. 
 
Types of Grants Support   
Segmentation of grants will be based on the defined support mechanism based on the capacity and the structure of the CSOs. The table below provides general overview on the type of grants, the purpose, target organizations and general features of each of the mechanisms: 
Standard grant - This is a long-term funding instrument with partnership duration ranging from one to three years. This grant provides advances to grantee upon verification of financial and programme qualification for advances. Subsequent advances are provided as receipts are submitted to clear previous advances. This grant type is issued to organizations with long-term activities that require advance funding and have sufficient financial and programme capacity to receive advance funding. This grant type will provide direct implementation maximum funding of up to ZMW 1,000,000 and minimum of ZMW300, 000 a year. This type of grant will ONLY be issued on an AAZ Request for Proposal (RFP) and Scope of Work (SOW) which will be issued once in a year.
Innovative grants – Provision of financial and technical support to accomplish AAZ specific objectives across the support thematic area. This type of grant is intended for organisations who demonstrate innovations and their mission, goals and objectives are aligned to the priority thematic Scope of Work (SOW) and Request For Proposal (RFP). This grant type will provide direct implementation maximum funding of up to ZMW 500,000 and minimum of ZMW 100,000 a year. The grant is only provided to partners for the period of six months to one year.
Community Action Grant -This is an action oriented grant  which provides financial and capacity building assistance to community groups based on clear goals, objectives and outcomes and proposed innovations. This type of support will be for short term high impact activities intended to respond to immediate and long terms needs of communities in the programme target areas. This grant type will provide activity based advance payment to Community Based Organizations (CBOs) for delivery and achievement of agreed milestones. This type will also provide financial and technical support through in-kind and third party payments to community groups. This facility will provide a maximum implementation funding of up to ZMW 100,000 and the minimum of ZMW10, 000 for the period three months to one year 
Social Movement Grant - A social movement grant will be a rapid response mechanism used to provide financial and technical assistance to movements and defenders of human rights. This type of support will be channelled through an already existing CSO to provide direct relief to intended recipients based on imaging advocacy and activism in line with the four programme priorities. This type of grant requires objectives and clearly outlined outcomes for funds to be made available. One off grant support will range from the maximum of ZMW 300,000 to a minimum of ZMW5, 000.
Capacity Building Grant - This is demand driven funding instrument with partnership duration ranging from one to three years. This grant type will provide capacity building maximum funding of up to ZMW 300,000 a year. This type of grant maybe be issued on an ActionAid Zambia Request for Proposal (RFP) and Scope of Work (SOW) or based on a request from implementing CSO's. This type of grant may be issued to CSO's, private companies and individual consultants to provide direct capacity building support on a specified scope of work.
Coordination/Network Grant – This grant is limited to umbrella, network and member-based organizations with the objective of improving networking and coordination among CSOs in the country. This grant is for financial support to national and provincial coordination of CSO on specific thematic areas and provision of financing on specific coordination activities. The maximum support for this funding is ZMW 1,000,000 for a year. Selection criteria for this funding is as of the Standard Grant type.
In-Kind Grant - In-kind services or equipment procured and provided by AAZ to the grantee organizations under the grant agreement. Equipment purchased under an in-kind grant will generally be provided to the grantees through an agreement signed during the implementation or upon successful completion of a grant agreement where the grant is performance based. The in-kind grant is the simplest type of grant agreement for the grantee as AAZ conducts all required procurement of goods and services, and cash will not be provided to the grantee with the exception of any minor costs that can be reimbursed to the grantee based on receipts and as specified in the Grant agreement and approved budget. In-kind grant is awarded when it is important for a local organization or community to take the lead in implementing an activity but may not have sufficient capacity. Minimum amount is ZMW 40,000 for 1 Year.