ACTIONAID HANDSOVER 1X3 CLASS BLOCK AT KATONGO PRIMARY IN SESHESKE TO GOVERNMENT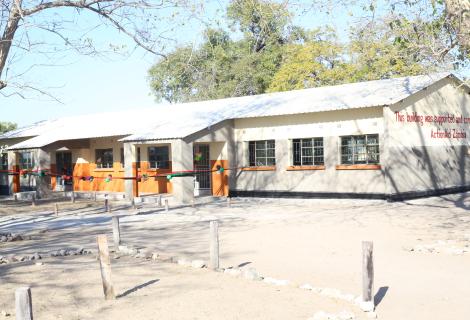 ACTIONAID HANDSOVER 1X3 CLASS BLOCK AT KATONGO PRIMARY IN SESHESKE TO GOVERNMENT
ACTIONAID Zambia today handed a 1×3 classroom block at Katongo Primary School in sesheke to ease pupils' access to education.
The pupils through Inonge Namiluko (Grade 9) thanked ActionAid for coming to their aid. She also appealed for more desks at the school.
The District Education Board (DEBs) and the District Commissioner have since appreciated ActionAid for responding to the needs of the community. They received the classrooms.
ActionAid Interim Country Director Andrew Chikowore said access to education for boys and girls remains priority.
Dr Chikowore said " we have made the dream of a young boy and girl child in Katongo area a reality".
He commended the government and community for creating a conducive environment to ensure the completion of the construction.
He said ActionAid was working on several projects Maondo ward such as fisheries, women saving groups and tree planting in three others schools.
DEBs representative Gerald Shikaaze said ActionAid's support was timely as it had responded to government's new policy of "Education for All".
He said the policy has resulted into a sharp in school enrolments at Katongo school.
District Commissioner Alex Namenda urged the community to guard against the school. He commended ActionAid for supplementing government efforts.
The Barotse Royal Establishment (BRE) also attended the handover ceremony. Induna Mubita also urged ActionAid to restart the fisheries project that faced challenges previously