Nalishebo's Story: Fighting The Hunger Crisis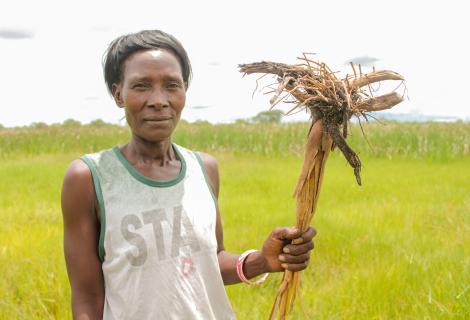 Drought Hit Nalolo District
Southern Province and Western Province of Zambia have been hit the hardest by climate change in the country. The two provinces have seen an increase in seasonal droughts, occasional dry spells and increased temperatures in some parts.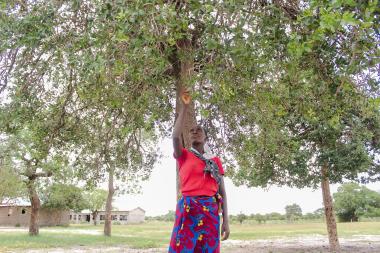 ActionAid Zambia has a local rights programme in Nalolo District of Western Province and as response to the hunger crisis, ActionAid Zambia in support of ActionAid Australia responded the distribution of relief food in two wards namely Likulwe and Shekela wards. 
In December 2019, ActionAid Zambia and Keepers Zambia Foundation (KZF), supported by the District Administrative Officer and the District Welfare Officer, visited Likulwe ward and Shekela Ward in Nalolo District, to meet with the Community Welfare Assistant Committee (CWAC) members to gather information on the depth of the hunger crisis from the community member's perspective. From speaking with members of the community it was clear that most of the rural district population is dependent on rain-fed agriculture such as maize. And reduced rainfall has had negative impacts which is currently being felt by many in the district. 
The women and men of Likulwe Ward and Shekela Ward of Nalolo district complained about the lack of food in the district due to reduced rainfall in the past two rainy seasons. They also feared that even this rainy season did not promise a good harvest. 
Nalishebo Nalishebo a local woman of Likulwe Ward, spoke to the fact that her family and her fellow community members have resorted to eating wild fruits locally known as Mawawa, Mubula and Roswood fruits because of drought, low harvest, failed crops and the increasing price of the maize meal on the market. Maize meal is the community's staple meal and they go for more than 21 days without eating their staple food. As a substitute for maize meal, the locals uproot wild grass locally known as Zita, which grows in open wet areas such as swamps. The roots are then cleaned and dried, pounded and then cooked for the family to eat. Nalishebo like many others in the community explained that it is common that most complain of stomach aches and skin irritation upon eating either wild fruits, Zita roots or wild mushrooms. She also exclaimed that her family has no choice but to eat wild fruits and grass roots because they do not have any other choice and they cannot afford to buy food because they do not have any crop to sell as a result of their poor harvest as they would have done if they had good rain in the previous rainy season. 
In January 2020, ActionAid Zambia with the support of its partners Keepers Zambia Foundation through funding received from ActionAid Australia, will be distributing relief food to 200 of the most vulnerable community members in the two wards namely Likulwe and Shekala for two months. With the support of the CWAC members, the most vulnerable community members will be supported with food relief packages which will include 10kg bag of beans, two 25kg bags of maize meal and a bottle of cooking oil.