ACTIONAID ZAMBIA LAUNCHES "FUND OUR FUTURE" CAMPAIGN ON CLIMATE JUSTCE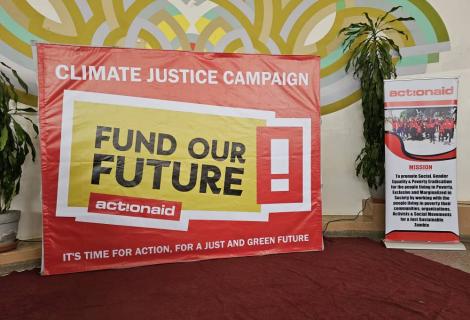 "FUND OUR FUTURE" CAMPAIGN LAUNCHED
SPEECH BY ACTIONAID INTERIM COUNTRY DIRECTOR DR ANDREW CHIKOWORE DURING THE CLIMATE JUSTICE LAUNCH "FUND OUR FUTURE" CAMPAIGN ON 26th SEPTEMBER 2023 IN LUSAKA
………………………………………………………………………………………
LADIES AND GENTLEMEN
ACTIONAID ZAMBIA HAS ASKED YOU TO BE PART OF THIS HISTORICAL DAY WHEN WE ALL GATHER HERE TO REMIND EACH OTHER ON THE NEED TO PROTECT AND PRESERVE OUR ENVIRONMENT.
LIVES ARE BEING LOST EVERY DAY BECAUSE OF THE GROSS EFFECTS OF CLIMATE CHANGE.
WE HAVE ALL AGREED THAT CLIMATE CHANGE IS REAL BUT IT SEEMS COLLECTIVE ACTION IS NOT BEING TAKEN ESPECIALLY FROM THOSE WITH ECONOMIC AND FINANCIAL INFLUENCE TO REMEDY THE SITUATION.
 
TODAY WE LAUNCH THE "FUND OUR FUTURE" CAMPAIGN TO REMIND THE BANKS AND THE GOVERNMENT IN PARTICULAR TO TAKE ACTION. 
THEY NEED TO ACT AND STOP FUELING THE CLIMATE CRISIS AND INSTEAD INVEST IN CLEAN ENERGY.
TODAY WE CALL FOR AGROECOLOGY. THROUGH PROMOTION OF AGROECOLOGY, IT'S THE WAY TO SUSTAIN OUR AGRICULTURE SECTOR.
A TRANSFORMATION OF FOOD SYSTEMS IS NEEDED TO ADDRESS THE CLIMATE CRISIS AND MEET THE WORLD'S FOOD AND LIVELIHOOD NEEDS, AND AGROECOLOGICAL FARMING IS INCREASINGLY RECOGNISED AS A VIABLE ALTERNATIVE TO INDUSTRIALISED AGRICULTURE.
WE ALSO CALL FOR A STOP IN GREEN WASHING IT IS NOT HELPING US IN ANY WAY
AFTER A DEEP REFLECTION WE HAVE REALIZED THAT FINANCIAL INSTITUTIONS LIKE BANKS SHOULD BE HELD ACCOUNTABLE FOR THE CLIMATE DAMAGE IN ZAMBIA AND ELSEWHERE.
WE ARE SAYING NO TO BEING A FOSSIL MONSTER
LADIES AND GENTLEMEN
LET'S MOVE THE MONEY AWAY FROM FOSSIL FUELS INTO AGROECOLOGY, AGROECOLOGY HAS PROVED TO BE MORE SUSTAINABLE AND IS ANSWERING TO THE FUTURE OF THE PEOPLE.
WE HENCE DEMAND THAT THE EFFECTIVELY REGULATE THE BANKING, FINANCE, FOSSIL FUEL AND INDUSTRIAL AGRICULTURE SECTORS TO STOP FOSSIL FUEL EXPANSION, INCLUDING ENSURING
MANDATORY DEVELOPMENT OF CLIMATE TRANSITION PLANS CONSISTENT WITH A 1.5°C (915 DEGREES CELSIUS) CLIMATE GOAL.
THE GOVERNMENT MUST REDIRECT HARMFUL FOSSIL FUEL AND INDUSTRIAL AGRICULTURAL SUBSIDIES; SCALE UP SUPPORT AND PLANNING FOR JUST TRANSITIONS TO REAL SOLUTIONS SUCH AS RENEWABLE ENERGY AND AGROECOLOGY.
THE GOVERNMENT SHOULD ALSO INSTEAD FINANCE JUST TRANSITIONS THROUGH SCALED UP CLIMATE FINANCE, TAX JUSTICE AND DEBT RELIEF.
COLLEAGUES, LADIES AND GENTLEMEN
NEW RESEARCH BY ACTIONAID SHOWS THAT: BANK FINANCING PROVIDED TO THE FOSSIL FUEL INDUSTRY IN THE GLOBAL SOUTH REACHED AN ESTIMATED US$3.2 TRILLION IN THE SEVEN YEARS SINCE THE PARIS AGREEMENT ON CLIMATE CHANGE WAS ADOPTED.
ITS ALSO SHOWS THAT BANK FINANCING PROVIDED TO THE LARGEST INDUSTRIAL AGRICULTURE COMPANIES OPERATING IN THE GLOBAL SOUTH AMOUNTED TO US$370 BILLION OVER THE SAME PERIOD. 
BANKS HAVE ALSO PROVIDED AN ANNUAL AVERAGE OF 20 TIMES MORE FINANCING TO FOSSIL FUELS AND AGRICULTURE ACTIVITIES IN THE GLOBAL SOUTH THAN GLOBAL NORTH GOVERNMENTS HAVE PROVIDED AS CLIMATE FINANCE TO COUNTRIES ON THE FRONT LINES OF THE CLIMATE CRISIS.
WITH SUCH REVELATIONS AND IN A BID TO PROTECT OUR CLIMATE AND SEEK JUSTICE, BANKS MUST STOP FINANCING FOSSIL FUELS: PUT AN IMMEDIATE STOP TO PROJECT AND CORPORATE FINANCING OF FOSSIL FUEL EXPANSION AND ALL COAL ACTIVITIES, AND DEVELOP RAPID EXIT STRATEGIES FROM OIL AND GAS; 
THEY MUST STOP FINANCING OF DEFORESTATION AND OTHER HARMFUL INDUSTRIAL AGRICULTURE ACTIVITIES: STOP PROJECT AND CORPORATE FINANCING OF DEFORESTATION AND OTHER HARMFUL INDUSTRIAL AGRICULTURE ACTIVITIES, AND DEVELOP ROBUST RED LINES TO GUIDE EXIT STRATEGIES; 
BANKS MUST PROTECT RIGHTS OF COMMUNITIES: STRENGTHEN POLICES AGAINST HUMAN RIGHTS ABUSE AND DEFORESTATION, AND ENSURE FREE, PRIOR AND INFORMED CONSENT (FPIC), ROBUST SAFEGUARDS AND EFFECTIVE DISCLOSURE AND REDRESS MECHANISMS;
COLLEAGUES 
THESE BANKS MUST WORK TO BRING EMISSIONS DOWN TO 'REAL ZERO': SET REAL AND AMBITIOUS TARGETS TO BRING FINANCING PORTFOLIO EMISSIONS DOWN TO AS CLOSE TO ZERO AS POSSIBLE, WITHOUT OFFSETS, AND COVERING THE ENTIRETY OF THE EMISSIONS ARISING FROM THEIR LOANS AND UNDERWRITING, AND THE SCOPE 1-3 EMISSIONS OF THEIR CLIENTS
 THEY SHOULD STRENGTHEN TRANSPARENCY AND TOOLS FOR VERIFICATION: ENHANCE MEASURES TO ENSURE ACCOUNTABILITY OF PROJECT AND CORPORATE FINANCING, INCLUDING THROUGH REPORTING MADE PUBLICLY-AVAILABLE ON ONLINE DATABASES ON POLICIES, PRACTICES AND PERFORMANCE INDICATORS IN EMISSIONS TARGETS, SAFEGUARDS AND HUMAN RIGHTS STANDARDS.
CONCLUSION
I AM AWARE THAT THIS IS A HOT DAY AND THE WEATHER IS NOT FAVORABLE. HOWEVER, YOU'RE COMING IN NUMBERS TO WITNESS THE LAUNCH OF THE "FUND OUR FUTURE) CAMPAIGN SIGNIFIES FOR EQUAL CONCERN TO CLIMATE JUSTICE AND SAFEGUARDING OUR FUTURE. TO GOVERNMENT LEADERS PRESENT HERE, WE SHALL COUNT ON YOUR GOOD WILL AND COMMITMENT TO MEET THEIR ASPIRATIONS OF   THE PEOPLE.
I NOW THANK ALL AND WISH YOU WELL AS WE PUSH FOR CLIMATE JUSTICE